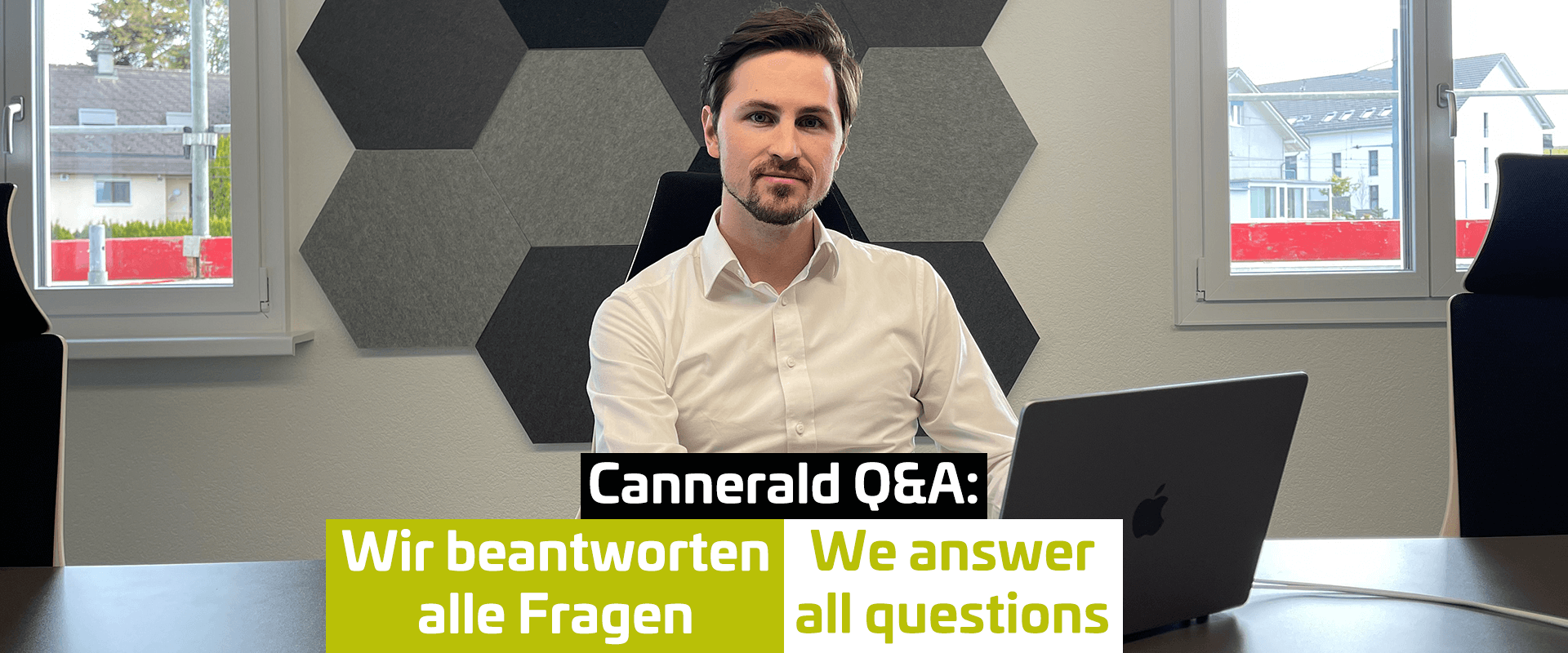 Cannerald Q&A: We answer all questions
by Cannerald
Posted on Mai 4, 2023 08:00
---
Dear Cannerald and CannerGrow Community,
we just published the Q&A in German language - in around 1-2 weeks we'll also be able to publish the English version with the English document!
Almost 2 weeks ago we asked you, our community, what you are currently most interested in and which questions you would like to have answered.
We received more than 3750 questions within only 3 days.
Afterward we sorted all questions manually, deleted or summarized questions that appeared more than once and divided the questions into categories. This was also the reason why we did not do a live Q&A. If we had done a live Q&A, it would have been very unstructured with the questions very mixed, and we wanted to give you the best possible overview so that you can get any questions that interest you answered as quickly and easily as possible.

In this blog article, you will find 3 videos:
1 - Video: Cannerald Q&A: We answer all questions
2 - Video: Cannerald Construction Update (GMP) and Tour - May 2023
3 - Video: Cannerald x Cannatrade Aftermovie

Very important for the upcoming Q&A Video (will be integrated here with the video together in around 1-2 weeks):
Since the video is very extensive and detailed, we have created a Google Doc for you.
On page 1 you will find a description of how to use the document in the best possible way.
On page 2 you will find a table of contents for each category and subcategory.
Afterward, we have provided you with timestamps for each section and each question. If you click on these timestamps, you will be redirected to exactly this question in the Q&A video.
If you don't want to watch the whole Q&A video, but only certain sections, you can use keywords in the Google Doc (Windows: Ctrl+F or macOS: Command+F) to search for sections that contain your desired keywords or use the table of contents.
On your computer or laptop you will see a floating table of contents on the left side of the Google Doc, which does not disappear when you scroll and if you click on an item in the table of contents, the document jumps to this position.
For the reasons mentioned above, we recommend you to use the Google Doc and also to use a computer or laptop if possible.

Additional information of an important update of our IT for the purchase/sale of purchased/received plants via marketplace or plant transfer:
1) From now on, you will no longer lose the first harvest when buying/receiving plants via marketplace or plant transfer!
For example, if you buy a plant 1 day before the harvest distribution, you will still receive this harvest.
2) Furthermore, to provide even more clarity and structure for you, our community, we are no longer making the sale/trade of purchased/retained plants via marketplace transfer and plant transfer dependent on harvest cycles.
The condition until you can resell a bought/received plant via marketplace or plant transfer is therefore no longer bound to harvest cycles, the new condition is a time of 90 days until possible trade.
So that you always have a full overview of when you can trade a plant, a display has been added as a feature, from which day a sale of a plant is possible. This display is shown under the main menu item "Your plants" under the respective plants.
In the period from 90 days to 8 days in the form of a date display, from when you can sell the plant, in the period from 7 days to 1 day in the form of days, in the period from 24 hours to 1 hour in the form of hours, in the period from 60 minutes to 1 minute in the form of minutes and in the period from 60 seconds to 1 second in the form of seconds until the possible time of sale, so you have the best possible overview and know exactly when you can sell / transfer or trade your plants.
Only after these 90 days, the symbol with the hand and the dollar symbol (marketplace sale) or the symbol with the two opposite arrows (plant transfer) will be displayed, and you can resell or transfer the respective plants you have acquired.
Under the main menu item "Your plants" this is clearly visible under the affected plants by the display "Tradable from" [time until the plant is tradable].

Now let's move on to the 3 new videos:
1) Cannerald Q&A: We answer all questions:
Important here: Please open the Google Doc (click here), this includes a description, a table of contents and timestamps for the respective questions in the video


2) Cannerald Construction Update (GMP) and Tour - May 2023:

In addition, we are excited to announce that Cannerald is now represented at trade fairs due to the soon possible production of medical GMP THC cannabis.
The first trade show where we will have our own booth is Cannatrade 2023 in Zurich (click here) from 12.05.2023 - 14.05.2023.
Here you can find the exhibition plan of this year's Cannatrade (click)
You are welcome to visit us on Saturday, 13.05.2023 and pick up a free goodie at our Cannerald booth, booth number 137, we look forward to seeing you!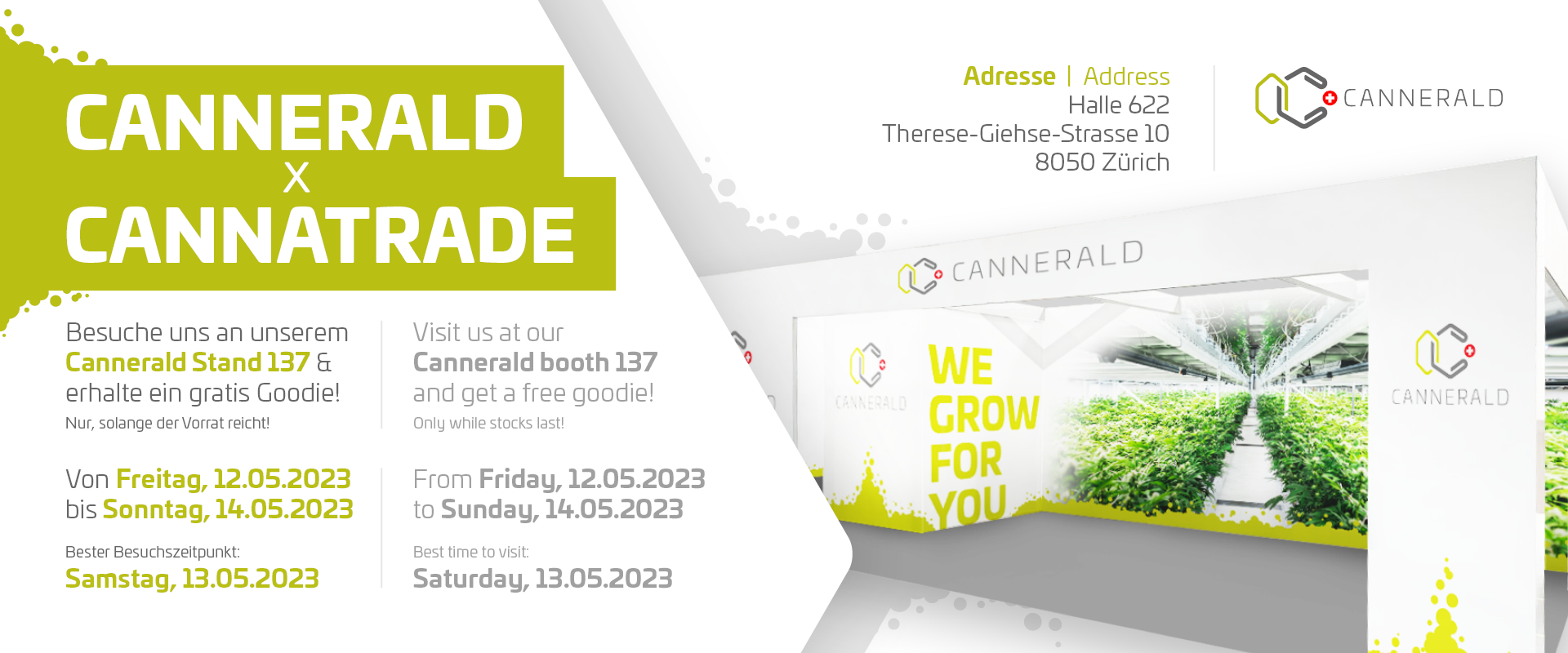 3) Cannerald x Cannatrade Aftermovie:


#WeGrowForYou
Dein Cannerald & CannerGrow Team